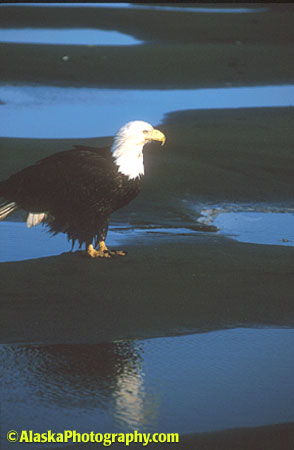 See text list of Alaskan birds.
Homer Eagles
Contributor:
AlaskaPhotography.com
May 2000


Click Here to Send a Postcard
This photo was taken in Homer Alaska during the Annual Kachemak Bay Shorebird Festival on the Homer Spit.

Some of the best bald eagles photos taken in Alaska are taken on the coastline and island shores of Southeast Alaska. This is probably as result of the fact that most Alaskan bald eagles feed on fish. Their diet consists mainly of herring, flounder, pollock, and salmon, waterfowl, small mammals, sea urchins, clams, crabs and small waterfowl.